Along the railroad tracks next to Elbistown State Park, off the beaten path, is a one-room vinyl plant shop. The interior of this store hosts a mix of sweet and earthy scents while homey sofas sit beneath shelves filled with enough cactus and flowers to cover the entire length of the walls.
All but the largest wall that doubles as a blackboard and lists the drinks available and their prices.
As its name suggests, Plant Pub is a licensed houseplant store for beer and wine. The grand opening is Saturday at 9 a.m., during which the Plant Pub will serve mimosas and hand out free succulents to its top ten guests.
The owners, Katie Peterson and her mother, Alice Peterson, began renting the one-room building in the downtown Battle Grounds in November. The layout is comfortable but not cramped and offers a variety of seating options, ranging from a small sofa to two large tables and individual chairs.
The shop's blackboard displays a list of all the beers and wines available for purchase. This list contains prospective housemaids, a couple of Midwest IPAs and Lafayette's People Brewing Company.
Katie said that she and her mother specifically sought out a distributor carrying People because they wanted to support local businesses — a theme that is pervasive throughout Plant Pub.
Most of the shop's plants are hung by macrame which, like many of the pots displayed on the shelves, are also sourced from artists with local connections.
"Anytime we can find plant-focused products that are made by local people, we try to bring that into rather than wholesale items from public places," Katie said.
The Plant Pub course involves bringing in locals to lead "one-session" guided activities, such as building moss poles for climbing plants, graphic/design boards, macrame knitting and yoga.
Alice compared the "workshops" Katie mentioned to "Painting with a Twist," a nationwide company that hosts guided painting clinics with wine and an extra focus on socialization.
"We were telling this wonderful lady at the farmer's market how we were trying to start scheduling workshops, and she said, 'Well, I can teach yoga at some point,'" Katie said. "So a lot of (events) have just (come out) by chance and serendipity."
Katie said the inspiration to start something like Plant Pub came when she was "bitten by a houseplant bug" in the midst of the COVID-19 pandemic, as she and her mother, who has always been a plant worker, are quarantined together.
"It started to get me hooked," Alice said. "We were working from home, and we were going crazy. (My mom) points out these plants I didn't give two years of time, but it was nice to bring some life back home."
As people started coming back and socializing, Katie said the idea of ​​a botanical store that could serve beer and wine kept surfacing. Alice said they had heard that the storefront was available for rent by word of mouth.
"We looked at everything, and there was one beer and wine license available in town, and we kind of decided, 'You know what, that's the obvious pot,'" Katie said. "
Getting Plant Pub up and running was a long process. Before Peterson took over, the building, which was once home to Bedrock Liquors, lacked many of the features the Department of Health would require for anyone planning to serve licensed beverages.
They needed to redo the plumbing as well as add windows, sinks, a door and lots of shelves for their plants. At the time, Katie was just starting her graduate studies in Indianapolis and Alice was still studying for the Head Start program.
"It was a lot," Katie said, "so we've been trying to slowly get rid of it." "My dad has done a great deal of work."
Alice said he was "very helpful" and was largely responsible for bringing the building up to health code standards.
The Plant Pub will be open Wednesday through Saturday from 9 a.m. to 6 p.m., except when it closes early for Lafayette Farmers Market at 2 p.m. on Wednesdays. Apart from the regular store operations, the pub also serves as a suitable space for small meetings.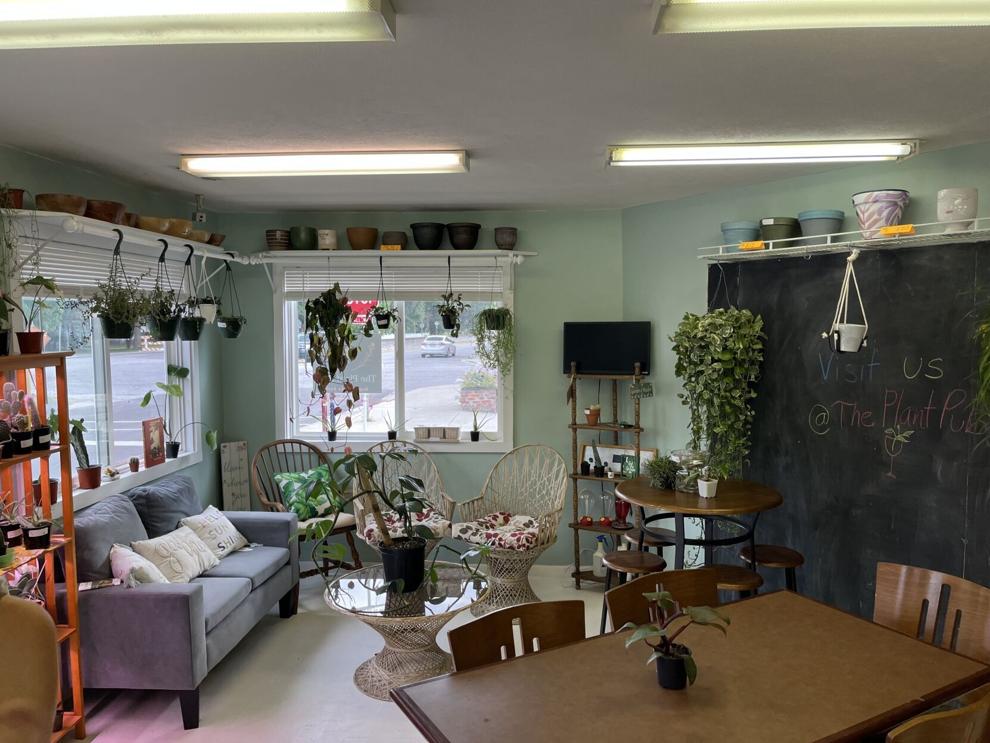 "We really wanted the houseplant store, but we really wanted to[host]workshops where people could have a glass of wine or beer and socialize," Katie said. "It's (a place) for people to have a book club, a game night or whatever they like."
The community's influence on the store extends to its furniture as well. "A young man in the neighborhood," said Alice, came by the store and offered to make Adirondack furniture for the Beer Garden space behind the store.
Jeremy Day, who Alice said "couldn't be more awesome," tossed in the four handmade chairs and then a full-size hardwood picnic table.
"This community is very supportive and very kind," Alice said. "We loved the idea of ​​collaborating with local businesses and the idea of ​​holding workshops and events that our Battle Ground community, Purdue students, and anyone wanting to do something plant-based could participate in."